A book review:
Gentleman of her Dreams by Jen Turano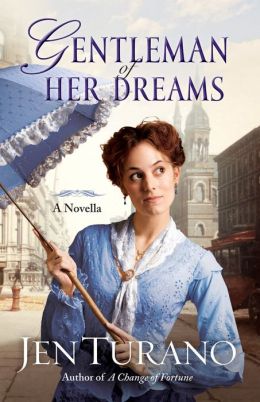 What the book says about itself:
When Miss Charlotte Wilson asks God for a husband, she decides He must want her to pursue Mr. Hamilton Beckett, the catch of the season. The only problem? She's never actually met Hamilton. Fortunately, one of her oldest and dearest friends, Mr. Henry St. James--who has returned to New York after a two-year absence--does know Hamilton. Much to Henry's chagrin, Charlotte immediately ropes him into helping her meet Hamilton. However, none of her plans to catch Hamilton's eye go as she expected, and she is even more confused when her old feelings for Henry begin to resurrect themselves. In the midst of the mayhem Charlotte always seems to cause, she wonders if the gentleman of her dreams might be an entirely different man than she thought.This novella is a companion to A Change of Fortune, Jen Turano's full-length debut novel, available fall 2012!
What I have to say about it:
This was so cute. Charlotte is a riot and that she wanted to catch Mr. Hamilton Beckett and the way she tried were hilarious to me. I loved how Henry tried to help her and put aside his own feelings for her to try to help out, but that Charlotte's family and even the servants knew Henry was more suited to her and were rooting for him. I rooted for him too. Such a nice guy and it was wonderful that they figured it out eventually.
It was so fun and I know it was a prep or a teaser for the Change of Fortune coming out soon I loved her style of writing I'm definitely going to get it soon.
This was free or really cheap at the time of this review. Maybe it still is, but its worth paying for either way.
Check it out on
Barnes and Noble HERE
Check it out on
Amazon HERE