What Shatter Me says for itself:
I have a curse.
I have a gift.
I'm a monster.
I'm more than human.
My touch is lethal.
My touch is power.
I am their weapon.
I will fight back.
No one knows why Juliette's touch is fatal, but The Reestablishment has plans for her. Plans to use her as a weapon. But Juliette has plans of her own. After a lifetime without freedom, she's finally discovering a strength to fight back for the very first time—and to find a future with the one boy she thought she'd lost forever.
In this electrifying debut, Tahereh Mafi presents a riveting dystopian world, a thrilling superhero story, and an unforgettable heroine.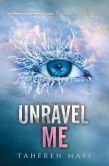 What Unravel Me says for itself:
tick
tick
tick
tick
tick
it's almost
time for war.
Juliette has escaped to Omega Point. It is a place for people like her—people with gifts—and it is also the headquarters of the rebel resistance.
She's finally free from The Reestablishment, free from their plan to use her as a weapon, and free to love Adam. But Juliette will never be free from her lethal touch.
Or from Warner, who wants Juliette more than she ever thought possible.
In this exhilarating sequel to Shatter Me, Juliette has to make life-changing decisions between what she wants and what she thinks is right. Decisions that might involve choosing between her heart—and Adam's life.
What I have to say about both of them:
These books are awesome and you tear right through them. I read the first book when it was online for the promotion of book 2. I read it in one afternoon. Then book 2 was done in 5 hours. Such a fast read, but not a small book. (Either of them)
The style is unusual and not what I'm used to reading, but these books didn't slow me down on that at all. The only thing I didn't like is that in book 2 I read it in the actual book form, not an e-book, and they had the edges of the pages roughed up. (probably to give you a feel for a dystopian world with books being banned) but I found it annoying.
Shatter Me starts out with Juliette in a mental institution and she's been writing in a journal about her issues. As we read her thoughts, I love how some of them are crossed out like she's trying to be honest, then changes her mind to show she's not completely lost her senses. The thing about Juliette is that she has a superpower that makes it so people can't touch her skin. She will drain them of all lifeforce and it hurts them as she touches them. She loves the way it feels, but is so sickened and horrified that what her touch does is kill another person.
Adam is sent to observe her, and we come to discover that he can touch her through some weird trick of fate. They knew each other in school before she accidentally killed a child through touch and is sent from doctor to doctor and hospital to hospital to eventually end up all alone in an institution. Through the comments in her notes and a few conversations with some other people, we see the world has been changed because of the way the humans treated it. Grass is not green. Birds can't fly. Martial Law rules.
Warner wants to use her as a powerful weapon to reorder and start the world anew with him in control, but she refuses to be used as a weapon. Adam helps her escape and they find themselves at the end of the book with a group of people I can only relate to the X-men. Ari thinks she'll finally have something of a normal life.
Unravel Me picks up a couple weeks after book 1 ended. Ari is having a hard time adjusting to this new prison. She still feels trapped and wonders if her power will be used for this side of the war and how being used by one group would be any different than being used by a different group.
The interactions between the characters and how they try to make the best of the really crappy situations they find themselves in is wonderful. I'd have to say Kenji is my favorite character in this book. (He was a supporting one in book 1, but here we get to see all the awesome stuff he can do.)
Adam, we discover has some kind of mutation as well, thus the reason he can touch Julliette without injury, but there of course has to be a twist. And I loved how there would still be some tension and hardness for the characters, though I was still really sad for Juliette that she couldn't find any happily ever after.
Warner comes into play in this book, and it's even better than book 1. We get to see that Warner isn't just a bad guy. (he is a bad guy), but he does have a reason for what he's doing and getting into his mind through the interactions with Juliette was awesome. Plus there is kissing and a whole lot of confusion, and guilt, and action, and fighting and on and on.