Hey, I might actually be able to post this. Been having difficulty with blogger lately, but it seems like it may be fixed.
So I've not been reading as much since I've done tons of writing and editing over the last month. Finished book # 3 the middle of April. So fun to be able to create something from just an idea.
And its also amazing to read someone else's ideas. In the form of a book. And speaking of reading other books, let me tell you about one that kept me up way into the night it was so good.
FEUDLINGS by Wendy Knight.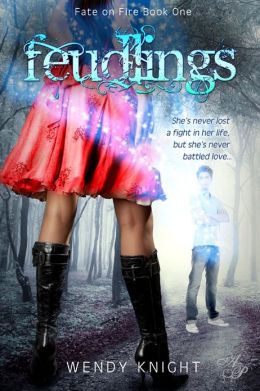 First off, can I just say I love this cover! And those boots! If I could stand to wear heels, I'd totally have a pair like that.
Here's what the book has to say for itself:
Nothing makes a new school suck worse than discovering the guy you're in love with is your prophesied nemesis.
Ari is the most powerful flame-throwing sorceress ever, and her people's last hope in an ancient war. But she's also a seventeen-year-old girl, and in her free, not-hunting-nemesis times, she jumps from school to school, trying to figure out regular people her own age and pretending she'll get the chance to graduate.
Shane lives a double life. He goes to school and masters the art of popularity, hiding the fact that he has a fate with a slim chance of his survival. He's destined to end a 300 year-old war by killing or being killed. He knows he's hunted by a powerful enemy who's not afraid to die. Only problem? He has no idea who that enemy is.
When Ari shows up at Shane's school, angry and sullen and determined to keep him at arm's reach, neither of them realize they are supposed to be killing each other, not fall-ing in love. Until Ari does realize it, and she almost dies – by Shane's hand.
Here's what I have to say about it:
This was such a fun book. Very much a Romeo and Juliet without the tragedy. Two kids from feuding family's fall in love and try to stop the whole war. Romance without being inappropriate. Battle scenes without being horrible and bloody and gory. A teenage assassin who has to fight her family's ancient battles, and does her best to be merciful, giving them the chance to run yet protects her family and her mother especially. Ari has a brother who is supposed to be her protector, (fighting assistant, right hand man, guardian, and so forth) but since he has a conscience and didn't want to continue fighting in the war, he is now an outcast and can't ever return home, but that doesn't stop him from still being her guard and doing what he can. The magic in the story was believable (as far as magic goes) there were rules to it, they had to do it right, no one could do all the things and there were limitations.
The humanity and relationship development was right on. Ari wasn't used to having friends and had always shut herself off from people, but as her classmates begin to break down her walls and she lets her guard down she starts to realize she can be human and actually enjoy life, even to the point of falling for a guy. Shane at first seemed like the egotistical popular guy that had to have a girlfriend all the time, but we soon get to see how Shane is so much different than the image he projects as a way to keep himself hidden in the open. The supporting characters were awesome and I even loved to hate the room mate.
Wendy did a wonderful job on this story and it has a sequel coming before long.
Here is Wendy's
BLOG
It's a great price as well.
Here's the link to buy it on
AMAZON
Here's the link for
Barnes and Noble
And if you have a preference for
Smashwords, it's right HERE