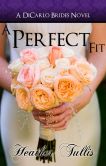 What the book says for itself:
Cami DiCarlo doesn't agree with her father that her life has been stuck in a rut, so she is not happy when he forces her hand into heading up guest services at his newest five-star hotel. The fact that he unveils the existence of four half-sisters at the same time, and insists that they live together while they launch the new resort, only makes things worse. When she meets Vince Talmadge, the sweet, sexy landscaper her father would never have approved of, Cami can't say no. If only she could be sure she is on the right track—and that they will be able to stop the person who is trying to destroy everything she and her sisters are working to build.
What I had to say about the book.
I sort of struggled with this book and I couldn't decide at first why it was I didn't immediately like it. I could have been that the story is about one couple, but ALL the sisters are involved in this book as the set up to the series begins. The names of the girls were all about flowers but I couldn't really remember what each girl was supposed to be in charge of in the running of the Hotel their father forced them into working in. They are all sisters, but only 2 share the same mother and the other 3 have different mothers. They struggle to come to terms with their relationships as sisters, and their feelings for their cheating father. And though I did like that part of the story where I could see the inner turmoil and how they interacted with each other and eventually learned to get along. It was still difficult to grasp the love story I wanted to read about because of all the extra family involved in the plot.
I totally guessed the "bad guys". One right from the start and the other pretty quickly afterward so it was kind of predictable, but there were still fun twists and surprises I didn't see at first. The whole issue the "Bad guy" had was a little cheesy and overblown, but desperate people do desperate things.
The love story should have had me riveted, but it kinda happened really fast, then they started sleeping together (though nothing is given in detail so it could still be considered basically a clean romance) and I was really annoyed. Their kissing started to get boring for me since there was no "sexual tension" because they were already a couple, just afraid to commit to the long term relationship at first. I'm sure I'll read the others that come out for the series (the teaser for book 2 at the end of this book 1 was interesting), but I'm not dying for them right away.